Movescapes, connectivity hotspots and eco-evolutionary dynamics: protecting the functional role of predatory coastal fishes
Flødevigen Marine Research Station, Institute of Marine Research, His, Norway

CRIOBE Research Unit, French National Centre for Scientific Research, Paris, France

Fisheries, Biodiversity and Conservation Research Group, Centre of Marine Sciences – University of Algarve, Faro, Portugal

Department of Ecology and Marine Resources – Fisheries Ecology Group, Institute of Marine Research – Spanish National Research Council, Vigo, Spain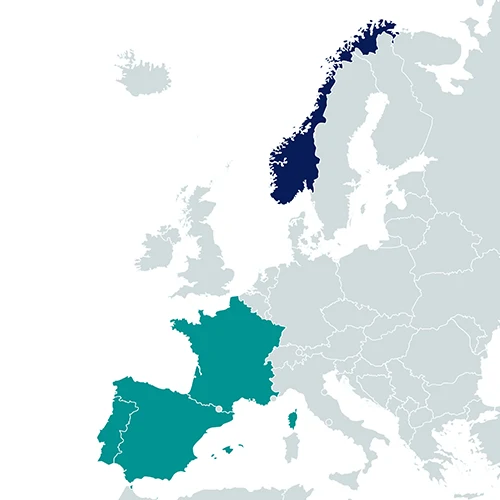 Larger predatory fish play key functional roles in marine ecosystems and are of important socioeconomic value. Being close to the top of the food web, these species can have strong influences on ecosystem functioning via trophic cascades. Capable of travelling long distances, predatory fish can also play a major role in connecting ecosystems, acting as vectors for nutrient flow and carbon sequestration. In addition, specialised behavioural tactics including differences in habitat use and foraging are likely to shape their functional roles in the ecosystem. From an evolutionary perspective, such individual variation represents the raw material for natural selection. The scales at which these behaviours occur, however, poses important challenges for science and conservation. The current system of European marine protected areas (MPAs) consists mainly of small separate units covering a few km2, at least when considering areas that are protected from fisheries. Small MPAs, being unable to protect the fitness of mobile phenotypes, may therefore change the course of contemporary evolution with potential feedback on ecological processes and resource availability for fisheries. MOVE will assess the movescapes of coastal predatory fish, that is, their full range of movement signatures and food web links against the needs for truly effective MPA networks.
The main objective of MOVE is to improve the conservation and sustainability of fisheries of coastal predatory fishes in Europe, to increase the resilience of coastal social-ecological systems.
Co-production will be a key activity, where stakeholders such as fishers and managers will be directly involved in all stages of the project including study design and questions. Specifically, stakeholder involvement will be ensured via participatory workshops, surveys and invitations to take part in field work and fish tagging. Mapping of fish movescapes and ecological roles will mainly rely on tracking tagged individual predator movements within large scale listening arrays of moored telemetry receivers, including current and potential future MPAs. We will also combine information about the size and protection levels of the different MPAs across Europe, with information about the distribution and mobility of the different species. Main findings will be synthesised in layman reports and policy briefs for national and European authorities. These will highlight the lessons learned and recommendations for more effective management and conservation strategies related to predatory fish. As an example, we expect that results from our project will feed directly into the planned zonation of existing Marine National Parks into effective MPA networks including movement corridors and climate refugia for predatory fish.