Vanishing habitats: conservation priorities for glacier-related biodiversity threatened by climate change
Gentile Francesco Ficetola
Department of Environmental Science and Policy, University of Milan, Milan, Italy

Alpine Ecology Laboratory, French National Centre for Scientific Research, Grenoble, France

Research and Collection Office, Science Museum (MUSE), Trento, Italy

Faculty of Biology – Department of Animal Taxonomy and Ecology, Adam Mickiewicz University, Poznań, Poland

Institute of Earth Surface Dynamics, University of Lausanne, Lausanne, Switzerland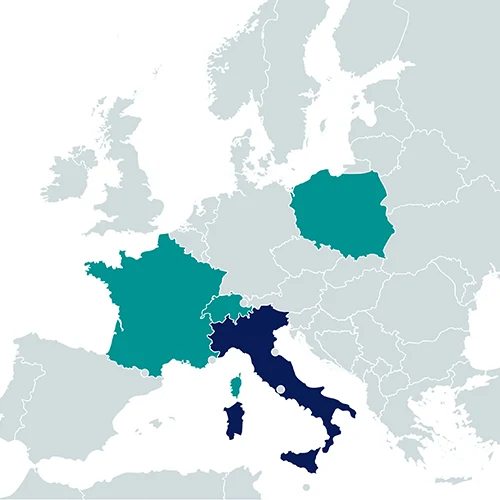 Glacial habitats host an astonishing diversity of species and life forms; however, most of the world's mountain glaciers are melting due to climate change, threatening glacier biodiversity and the functioning of mountain ecosystems. In Europe, glacier retreat is particularly severe for the southernmost, peripheral mountain chains, where the smallest glaciers occur. The European Habitat Directive includes 'Permanent Glaciers' in the list of habitats deserving conservation, and glacial habitats host several endemic species. Nevertheless, none of these species is listed in the Habitat Directive, and information on biodiversity of these environments is scarce, hindering our ability to manage mountain socio-ecological systems.
PrioritIce aims at identifying trends, threats and processes acting on the biodiversity associated to glacial habitats (i.e. species living above the glacier or in glacier forelands) in Europe, with a focus on the areas hosting critically endangered habitats. Studying the distribution, abundance and functions of biodiversity across mountain environments, PrioritIce will enhance evidence-based protection approaches and shed light on the conservation of a poorly known, unprotected biota. The integration of innovative statistical and molecular methodologies will allow us to improve our knowledge of glacial biodiversity and its ecological role in the functioning of glacial habitats in order to identify priority conservation areas. This will provide practitioners, managers and policy makers with the much-needed knowledge for defining adequate strategies for preserving mountain biodiversity and ecosystems.
The PrioritIce project will:
provide an exhaustive assessment of the taxonomic and functional diversity of organisms living in glacial habitats. The consortium has already gathered data on the distribution of key taxa (bacteria, fungi, nematodes, tardigrades, earthworms, arthropods, plants), and of ecosystem functions from multiple glacial landscapes across Europe. We will complement this database with additional samples from glaciers at high risk of disappearing, with a special focus on poorly known endemic species;

analyse biological interactions to identify how species contribute to ecosystem functioning and services in glacial habitats. We will also develop machine learning approaches to assess the impact of glacier extinction on the diversity–functioning relationship;

provide evidence-based priority programs and actions for managing glacial habitats and devising strategies for anticipating the consequences of glacier retreat under climate change scenarios. Together with a broad set of stakeholders, we will inform decision-makers and environmental policy to preserve, support, and manage these ecosystems.