Aquatic FUNgal biodiversity: developing knowledge and strAtegies to inform ConservaTION priorities and measures
Department of Organismal Biology, Systematic Biology, Swedish University of Agricultural Sciences, Uppsala, Sweden

Institute of Ecology and Earth Sciences, University of Tartu, Tartu, Estonia

Institute of Technology, University of Tartu, Tartu, Estonia

Plankton and Microbial Ecology, Leibniz Institute of Freshwater Ecology and Inland Fisheries (IGB), Stechlin, Germany

Water Research Institute (IRSA), National Research Council of  Italy, Verbania, Italy

Department of Biology – Centre of Molecular and Environmental Biology (CBMA), University of Minho, Braga, Portugal

Institute of Microbiology, University of Applied Sciences and Arts of Southern Switzerland, Mendrisio, Switzerland

Global Center for Species Survival, Indianapolis Zoological Society, Indianapolis, United States of America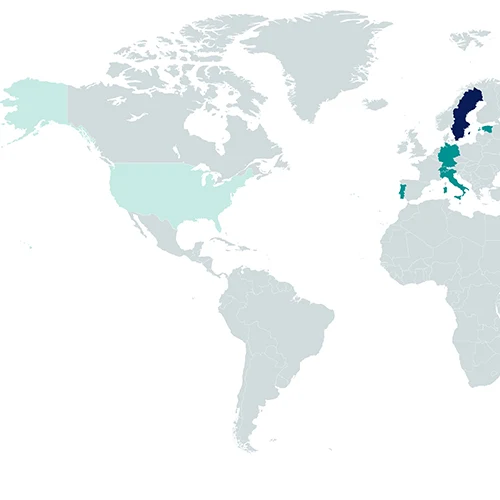 Freshwater and estuarine ecosystems harbour disproportionally rich biodiversity compared to terrestrial and marine ecosystems, provide essential ecological services, and are fundamentally important for human health, culture, recreation, and economy. Aquatic fungi, however, despite their contribution to the health, function, and resilience of freshwater and estuarine ecosystems, are not included in any major conservation plan or policy. Further, efficacy of existing protection schemes for preserving this important biodiversity component has not been evaluated. To date there are zero aquatic fungi among the >35,000 species from freshwater and estuaries on the International Union for Conservation of Nature (IUCN) Red List. As "No one will protect what they don't care about…" (Sir David Attenborough), it is essential to bring an understanding of aquatic fungi to the conservation agenda, to ensure their protection and that of the ecosystem services they provide.
For the first time, FUNACTION will build knowledge about the taxonomic, phylogenetic and functional diversity of aquatic fungi to develop strategies for their conservation. In particular, FUNACTION has the following objectives:
Foundation: produce the knowledge base needed for aquatic fungi-aware conservation actions.

Conservation: translate that knowledge into conservation planning and monitoring tools for aquatic fungi.

Communication: increase awareness about aquatic fungi and the role they play in our freshwater and estuarine ecosystems, support inclusivity and participation in conservation, and engage with stakeholders to produce a useful scientific basis for effective implementation of conservation actions.
By combining DNA-based approaches with environmental data (e.g. water chemistry and climate information) across Europe, FUNACTION, together with the project FunAqua (Estonia), will identify patterns and drivers of aquatic fungi diversity which are needed for data-driven conservation.

FUNACTION will study biodiversity patterns of aquatic fungi across spatio-temporal scales within and outside protected areas. By combining these data with information about protection strategies, land use, and local environmental factors, the effectiveness of protected areas for the protection of aquatic fungal diversity, functions and services will be evaluated.

FUNACTION will translate results into conservation planning and monitoring guidance. Hotspots of aquatic fungi biodiversity will be identified to pinpoint priority conservation areas and provide a first regional red-listing of aquatic fungi species and data required for Key Biodiversity Areas development.

Targeted case studies will evaluate drivers of ecosystem function attributable to aquatic fungi (e.g. organic matter cycling), and develop approaches to include aquatic fungi into monitoring programs.

FUNACTION aims to "make a splash" for aquatic fungi conservation, through effective communication and early involvement of stakeholders, to co-produce the first-ever guidelines for monitoring and conservation of aquatic fungi.