Joint publication between ALCUE-Net and BiodivERsA
BiodivERsA and ALCUE-Net* are pleased to announce the publication of the paper : "Research on Biodiversity and Climate Change at a Distance: Collaboration Networks between Europe and Latin America and the Caribbean", by O. Dangles and co-authors (PLoS ONE 11(6): e0157441).
This analysis results from a collaboration between BiodivERsA and ALCUE-Net and looks at the evolution of research collaboration between the European Research Area (ERA) and the Latin America and Caribbean regions (LAC), the countries leading the collaboration, and the research domains covered.
The paper outlines that the number of scientific co-authorships between researchers from both regions have steadily increased over the past 10 years, and in particular for the biodiversity and climate change domain. 
This analysis completes the one performed by BiodivERsA and ALCUE-NET on the collaboration between researchers from the ERA and LAC regions in the whole biodiversity domain (download the brochure here). 
This paper is in open access. Please click here to access it.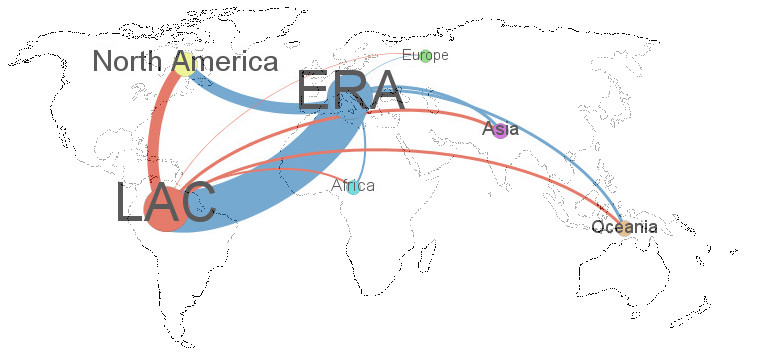 * ALCUE-Net is the Latin America, Caribbean and European Union Network on Research and Innovation