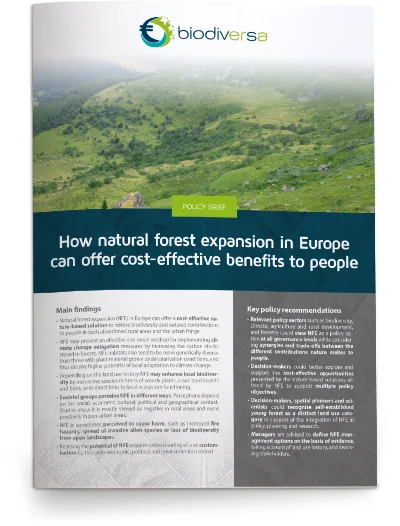 A BiodivERsA policy brief based upon the results from the SPONFOREST project
The policy brief on "How natural forest expansion in Europe can offer cost-effective benefits to people" presents information on how natural forest expansion can offer a cost-effective nature-based solution and climate mitigation measure.
It provides evidence on the benefits of natural forest expansion, as well as insights into how it is perceived by citizens across Europe and how its potential can be fully realised. In particular, the brief calls for a better recognition of natural forest expansion in policy and management contexts, in order to better seize and manage opportunities it provides to contribute multiple policy and management objectives, for instance in the context of the future EU Forest Strategy.
Key policy recommendations
• Relevant policy sectors such as biodiversity, climate, agriculture and rural development, and forestry could view natural forest expansion as a policy option at all governance levels while considering synergies and trade-offs between the different contributions nature makes to people.
• Decision-makers could better explore and support the cost-effective opportunities presented by the nature-based solutions offered by natural forest expansion to support multiple policy objectives.
• Decision-makers, spatial planners and scientists could recognise self-established young forest as a distinct land use category in support of the integration of natural forest expansion in policy, planning and research.
• Managers are advised to define natural forest expansion management options on the basis of evidence, taking account of land use history, and involving stakeholders.